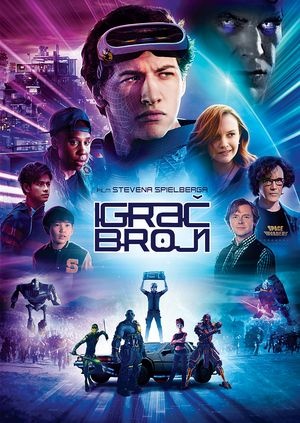 Igrač broj 1
Ready Player One (2018)
Synopsis
Spielbergova znanstveno-fantastična akcijska avantura otkriva nam kaotičan svijet na rubu propasti 2045. godine. Jedini spas za čovječanstvo je OASIS, fantastičan virtualni svijet kreiran od strane briljantnog i ekscentričnog Jamesa Hallidayja. Kada Halliday umre, njegovo neizmjerno bogatstvo biti će ostavljeno prvoj osobi koja pronađe digitalno uskršnje jaje skriveno u OASIS-u. Potrazi se priključuje i Wade Watts te biva uvučen u svijet iskrivljene stvarnosti prepun misterija i opasnosti.
Actors and filmmakers
DirectorSteven Spielberg
CastTye Sheridan, Olivia Cooke i Ben Mendelsohn
screenplayZak Penn i Ernest Cline
Contact
For more information please feel free to contact us


e-mail: film@menart.hr
Publisher
Menart
Release date (DVD):
30.07.2018.
Release date (Blu-ray):
30.07.2018.
For any questions please feel free to contact us: