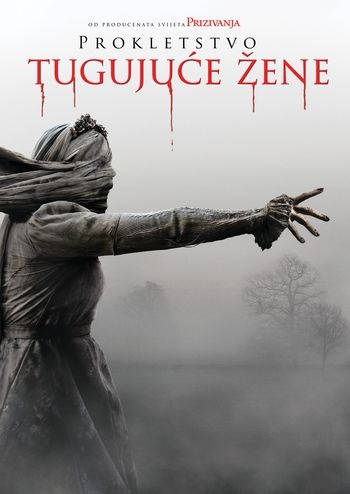 Prokletstvo tugujuće žene
The Curse of La Llrorona (2019)
Synopsis
Zastrašujuća bezvremenska legenda oživljava u filmu Prokletstvo tugujuće žene.
Ona je Žena koja plače, a oni koji čuju njezin poziv smrti, bivaju ukleti. Vreba iz sjene i otima djecu, očajnički želi nadomjestiti svoju. U Los Angelesu 1970-ih, zanemarujući zastrašujuće upozorenje majke koja je osumnjičena da ugrožava svoju djecu, socijalna radnica i njezina mala djeca ubrzo se nađu u beznadnoj situaciji. Njihova jedina nada za preživljavanjem La Lloroninog smrtonosnog gnjeva je razočarani svećenik i njegov mističan pristup u kojem se sukobljavaju vjera i strah.
Actors and filmmakers
DirectorMichael Chaves
CastLinda Cardellini, Raymond Cruz i Patricia Velasquez
screenplayMikki Daughtry i Tobias Iaconis
Contact
For more information please feel free to contact us


e-mail: film@menart.hr
Publisher
Menart
Release date (DVD):
26.08.2019.
Release date (Blu-ray):
01.01.1970.
For any questions please feel free to contact us: